Susan Kwok Annoura
Owner/Broker
Specializing in International Buyer/Tenant Representation
Houston Association of Realtors, NextGen Realtor Group's 20 Under 40 Rising Stars in Real Estate Award Winner, 2010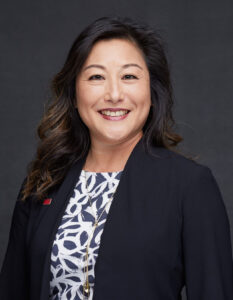 Hello and thank you for giving me the opportunity to serve you. My name is Susan Kwok Annoura and I am from the NASA suburb of Houston called Clear Lake. After graduating from CLHS, I attended Baylor University for my undergraduate studies (B.A. Business), and ended up in Fukuoka, Japan on an exchange program scholarship to Seinan Gakuin Daigaku, my junior year. One thing lead to another and before I knew it, I was married to a Japanese professional KEIRIN racer (sprint cyclist on the velodrome) and living in Fukuoka permanently!  While in Japan, I worked as a radio announcer for 9 years on Love FM 76.1, hosting 6 different programs and doing voice commercials for both radio and tv. It was during this time that I was fortunate to interview an array of mainstream artists including Diana King, Olivia Newton John, Zebrahead, Dido, Michael Buble, Daniel Powter, Shanice, Christopher Cross, and the list goes on (and on and on).  In addition to this job, I also obtained my Masters degree in Education, Curriculum and Technology from Temple University Japan, and taught English Communication at various universities and corporations.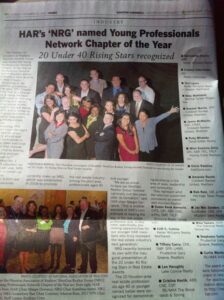 In 2007, after the birth of my second son, our family of four decided to move back to the United States.  As my parents were still in Houston (in their original house, in fact!), we decided to move back to something familiar.  I obtained my real estate license immediately and began my new career in September 2007.  In January 2008, I joined a national franchise and began actively helping others full time, in their quest to buy and sell properties, both residential and commercial.  I continued my education by earning several National Association of Realtors recognized designations including GRI (Graduate Realtor Institute), ABR (Accredited Buyer's Representative), and CIPS (Certified International Property Specialist).  I am also a certified SMP (Social Media Pro), MCNE (Master Certified Negotiation Expert), have been certified as a Texas Affordable Housing Specialist, and am also C2EX certified by the National Association of Realtors.  In 2009, I was selected to participate in the intensive yearlong Texas Realtors Leadership Program alongside 21 other talented and successful Houston realtors. This was both a meaningful and eye-opening experience which allowed me to learn on topics such as Ethnic Diversity and Spokesperson Training. By 2018, I served as the Chairperson of the Houston Association of Realtors International Advisory Board and led our team to bringing home the coveted Diamond Award from the National Association of Realtors. In 2021, I will serve my state as the Texas Realtors Global Liaison and I will serve my city as President-Elect for the Houston Womens Council of Realtors. Aside from real estate, I served 3 years as Captain of the photography team for the Houston Livestock Show and Rodeo's International Committee, and served as the Japanese interpreter for the HLSR World's BBQ Contest.
I obtained my TX Broker's License from the Texas Real Estate Commission and decided to start my own brokerage firm, Annoura Realty Group LLC, in January 2010.  The bulk of my clientele is comprised of international buyers and tenants, many of whom are first time buyers or newcomers to the United States.  To date, Annoura Realty Group has helped over 1000 Japanese families and companies relocate their employees to the Houston metropolitan area. Some of the Japanese companies our team serves are: Daikin, Kuraray, Castem, Chiyoda, Dianal, Hanwa American, Hitachi Consulting, JAXA, Inpex, JGC, JX Nippon Chemical, JX Nippon Oil Exploration, Kureha, Mitsubishi Heavy Industries, Mitsubishi Heavy Industries Compressor, Mitsui, Mizuho Bank, Nippon Shokubai, Noltex, NYK Energy Transport, Sojitz, Sumitomo Corporation, Tadano, Texel-Seikow, Tokyo Marine, Tonen General, Toshiba, EKK Eagle, MEP, and Japanese doctors and researchers at MD Anderson, Texas Childrens Hospital, UT Health, and Baylor College of Medicine.  We are blessed to see the list of companies we represent grow each year.  On the commercial side of real estate, Annoura Realty Group represented Houston's largest Japanese supermarket, Seiwa Market, and continue to serve as the gateway for both private and institutional Japanese investors buying single family, multi-family, and retail shopping centers in Houston, TX.  As the demand in commercial real estate grows, so does the responsibility in advising our clients.  In 2015, I decided to embark on the extreme challenge of obtaining my CCIM designation, the highest level of commercial real estate education obtainable. After travelling around the United States from South Carolina to Orange County, Dallas to Chicago, and building a Texas commercial sales portfolio of $10,000,000, I was able to complete my classes and pass the exam in April 2017. I now belong to the elite class of CCIM.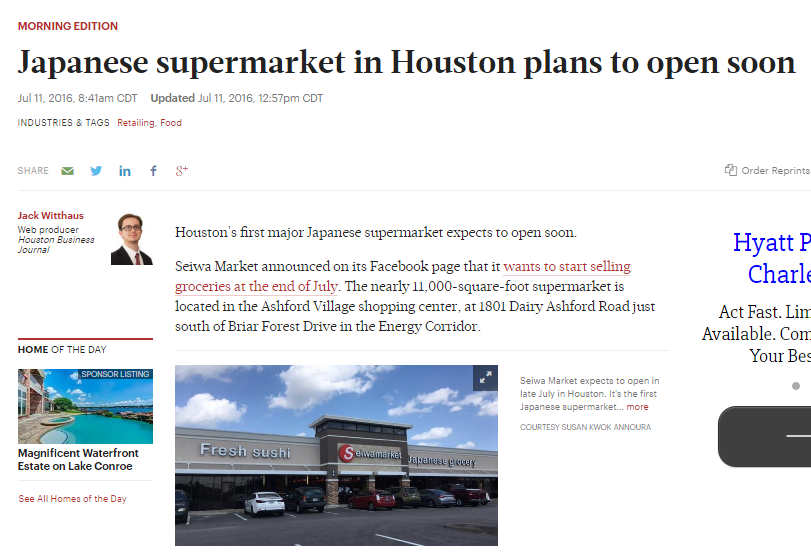 http://www.bizjournals.com/houston/morning_call/2016/07/japanese-supermarket-in-houston-plans-to-open-soon.html
As a Texan who has lived in a foreign country for fourteen years, I am empathetic to the fears and worries an international buyer or tenant may have when buying or leasing a property in a new land.  It is a primary goal of my company to ease these worries and to help guide and advise the foreign buyer/tenant in their endeavor to purchase/lease both residential and commercial property in Texas.
Thank you again for giving me the opportunity to serve you.  You will find that I am very communicative and quick to respond.  I practice real estate with the highest level of ethics and integrity.  My promise to you is to help you through this process as smoothly and stress-free as possible.  Once you have hired me, please know that you can ask me for advice and opinions at any time, as we are now a team striving towards the same goal.
Susan Kwok Annoura